To Encourage Genuine Human Interconnection
And Unity In An Increasingly Divided World
Courses
Our two-year core curriculum provides foundational classes in Tibetan Buddhism including sutra teachings, philosophical tenets and Tibetan language. The classes are taught in the evening, by the resident Namgyal monks.
Teachings are anchored by the Fall-Spring class schedule, which includes once a week meetings lasting 10-12 weeks. Courses range from introductory sessions on Tibetan Buddhist philosophy and practice to challenging readings and discussions of concepts in both Sutra and Tantra. 
See Upcoming Courses
Events
On special Buddhist holidays, the monastery celebrates with Namgyal students, community, and local Tibetans, offering puja's and prayer ceremonies appropriate to each event. Additionally, the monastery offers special events and teachings on interfaith, and science and Buddhism symposiums, and is continually extending programming to meet the needs of students in bringing related topics of interest to the public.
See Upcoming Events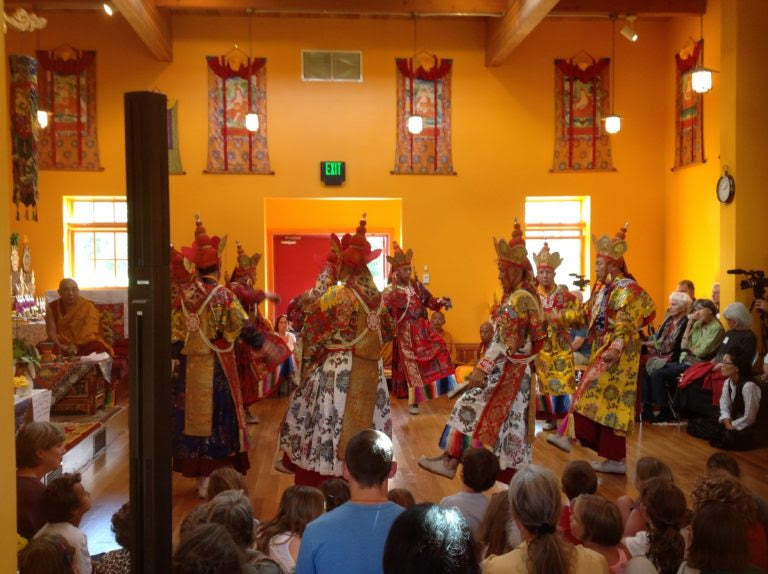 The resident monks of Namgyal Monastery are available on a limited basis to consecrate statues, thangkas, and ritual dharma objects; perform special blessings and prayers for the ill and deceased; and, bless a marriage or the birth of a child.

The fees for blessings and consecrations vary, depending upon the length of time needed, the number of monks, and the size of the statue or object being consecrated. Contact Namgyal with any questions, and we will do our best to accommodate your needs. Please bear in mind that when the monks are busy traveling or teaching they may not be available to honor your requests at a specific time.
Acting as cultural ambassadors from the exiled personal monastery of His Holiness the Dalai Lama in Dharamsala, India, the monks of Namgyal Monastery Institute of Buddhist Studies have become especially well known for the creation of sand mandala exhibitions in museums and galleries throughout the world.

In keeping with His Holiness's mission to preserve Tibetan culture and its rich history of traditional tantric arts and ritual practices, the resident Namgyal monks are available to create sand mandalas at museums, galleries, universities, cultural centers, and other institutions. Organizations interested in sponsoring a sand mandala exhibition should contact Namgyal Monastery.
Johnson Museum Cornell
Namgyal Monastery mandala.